Google announced passage ranking back in October 2020. It was apparently rolled out live on Feb 10th 2021 in the US. So is what we've seen today evidence that Google Passage Ranking is live in the UK?
After receiving an SMS from by mobile phone provider, offering me the Apple Watch series 6, I clicked the contained link to see a page of specs on the latest device. Amongst all the blood oxygen level and ECG benefits I saw that the page boasted series 6 has a battery life of "up to 18 hours".
As an owner of an Apple Watch series 2 I wondered what my battery life was. I swear it's more than the series 6 so I just wanted to check to ensure the newer watch wasn't s retrograde step from my current one.
I Googled "series 2 battery life", yes, omitting to spell out Apple Watch, but Google still furnished me with both the relevant result and even a link to the specific passage on the resulting page  that held the answer;
I was shocked to see the answer "54 hours", three times better in my old watch than the latest one, as I'm sure my battery life is no longer than 24 hours at a push. I followed the link to its destination URL…
And there on the resulting page, Google had helpfully highlighted the exact passage of the knowledge I was looking for; is this evidence of Google Passage Ranking live in the UK?
What is Google Passage Ranking?
Google's Vice President of search, Prabhakar Raghavan, announced a number of search innovations in the official post back in October, titled How AI (Artificial Intelligence) is powering a more helpful Google.
The section of the post addressing the new Passage Ranking features reads:
Very specific searches can be the hardest to get right, since sometimes the single sentence that answers your question might be buried deep in a web page. We've recently made a breakthrough in ranking and are now able to not just index web pages, but individual passages from the pages. By better understanding the relevancy of specific passages, not just the overall page, we can find that needle-in-a-haystack information you're looking for. This technology will improve 7 percent of search queries across all languages as we roll it out globally.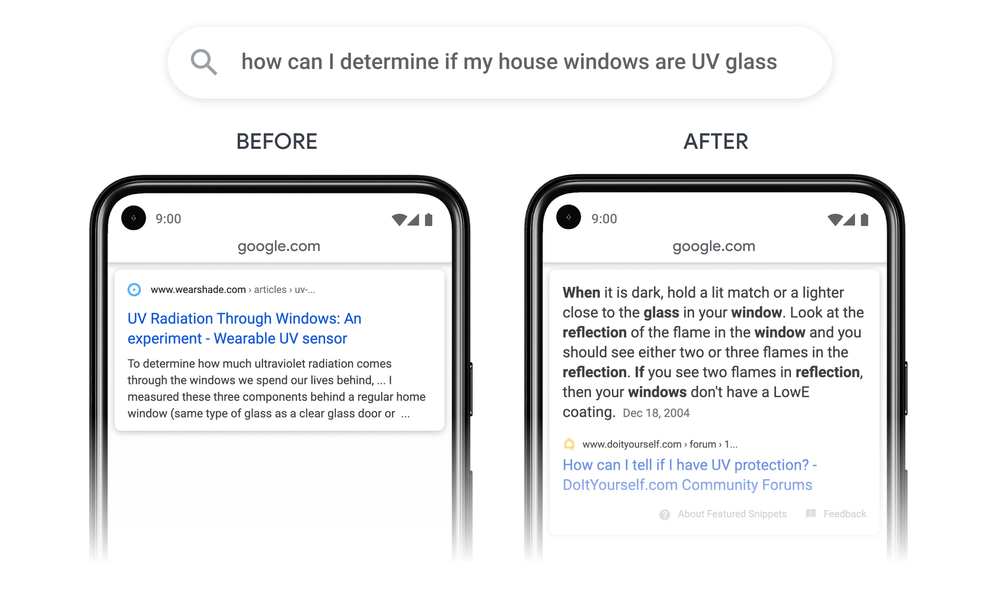 With new passage understanding capabilities, Google can understand that the specific passage (R) is a lot more relevant to a specific query than a broader page on that topic (L).
Raghavan's descriptor perfectly describes my experience this morning and demonstrates the power and usefulness of Google Passage Rank. Not only did I get the result I was looking for but also a link to the source and an even deeper link anchor to the relevant section highlighted for my reference.
Passage Rank is extremely useful and will make fact checking easier than ever, especially when the user is taken directly to the source within the source and can quickly evaluate context too.
This is a fantastic update from Google, I can see massive value in Passage Rank already.
---
Need an independent SEO consultant with 20 years experience and an affordably priced service?
Get in contact with 22i right now, speak to the organ grinder, get results and save yourself a packet.
Call us now on 07306 020 985
Today is a special day. Twenty years ago, 22i design launched.
After spending 2 years studying for an HNC in Graphics & Design, our founder found himself in a dilemma;
You can't get work without the experience and you can't get experience without the work.
Catch 22 aye? But that wasn't the only reason for the name, that was more f a happy coincidence. 22i is indeed a quirky name, and came from the engine size of our owner's Opel Manta GT/E – a 2.2 litre fuel-injected, 140BHP inline four engine. Hence the name 22i.
And so, a 1998 personal homepage hosted on Demon Internet became MantaWorld in June 2000, soon followed by 22i Design in September 2000. Then soon after, the Dave M Karate and MaxTherapy  websites became the first little commercial successes for this tiny little home-based design studio.
Since then we've had a steady stream of low-key projects over the years, providing web hosting and email, web design, graphic design and lots of digital marketing, mostly SEO and content marketing but with some PPC on the side too.
Of course, 22i Design has always been a side project, and in the "day job" other skills have included full time project management and social media.
Basically, we're based upon over two years of digital marketing experience.
Other businesses have come and gone. Some only take on the young, and the cheap, but they are also inexperienced too.
If you want a master craftsman, speak with 22i Design. You can get a 33% discount on rates by choosing a business with just five years experience but you'll also be cutting the insights, wisdom and experience by 75%.
Twenty years experience in digital marketing, that's a tough score to beat.